Aug 13, 2009: Art, Free For All!
Posted by Forrest Peaker on December 05, 2014 0 Comments
Sunday, August 16th we'll be barbecuing oysters and steaming clams at the McReavy House Museum Art Free-for-All, in Union, Washington. There will be arts and crafts demonstrations throughout the day, so stop on by to learn about basket weaving, goat cheese making, screen printing, and flame working.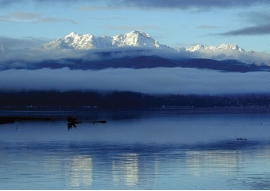 View of the Olympic Mountains, in the winter, from Union.