Mar 24, 2009: Curried Oyster Stew
Posted by Adam James on December 05, 2014 5 Comments
recipe by request.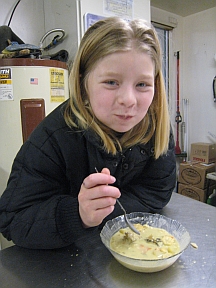 This oyster stew is a family favorite... with both Adam and Helena claiming credit for it. Probably it was a joint creation. Ingredients:
1 cup chopped carrots
1 medium onion
2 to 3 potatoes
1 quart chicken stock (or enough to cover vegetables and make it soupy)
1 pint Hama Hama Oysters, drained (making this stew with any other brand of oyster is guaranteed to ensure failure)
1 tsp curry powder (or to taste)
1 tsp ground cumin (ditto above)
1 can unsweetened coconut milk
salt and pepper
Procedure: Chop the vegetables to desired size (we prefer large chunks for the stew), and simmer in chicken stock until almost tender. Add oysters and season with curry, cumin, salt and pepper. Bring back to a simmer, and cook until the oysters' edges curl and they are plump and firm. (Depending on the size of the oysters, you may want to cut them in half.) Add coconut milk. Reheat but don't boil. Taste for flavor and add more seasoning if necessary.