July 29, 2008: Moon Jellies
Posted by Adam James on December 05, 2014 2 Comments

The cosmopolitan moon jelly is found all over the world, frequently seen from the decks of Puget Sound ferries, and occasionally found dead on the beach at Hama Hama farm. Not sure if that qualifies them as a tideflat critter... but we'll blog about them anyways. Moon jellies, unlike other species found in Puget Sound (such as the colorful Lion's Mane jellyfish), don't have enough sting to hurt humans. Like all jellyfish, they're 95 percent water. They're probably a better diet food than grapefruit: According to Wikipedia, moon jellies, or Aurelia aurita, are commonly eaten in Asia.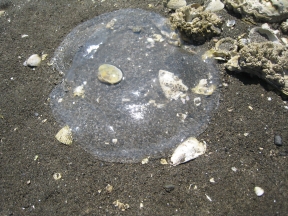 Moon jellies are free-floating, and digest whatever plankton they happen to bump into as they drift through the current. The plankton becomes covered in slime, and slides down the bell-shaped body of the jellyfish, towards the trailing oral arms. Go to Wikipedia for pictures of a moon jelly capturing prey.

Fertilized moon jelly larvae form stationary polyps before dividing asexually into free-floating juvenile jellies. Check out this page to see pictures of moon jelly polyps and to learn more about how the jellies develop. If you're really intrigued by Cnidarians, check out this Seattle Times article about jellyfish, and this BBC article about killer jellyfish destroying an Irish salmon farm.