Apr 3, 2008: Hood Canal Crab Cakes
Posted by Adam James on December 05, 2014 2 Comments
Ingredients:
Meat from one Dungeness crab, picked
1 cup bread crumbs, plus additional for coating
½ cup mayonnaise
¼ cup minced fresh parsley
1 large egg, blended
2 tsp Worcestershire sauce
1 tsp Spike seasoning
¼ tsp cayenne
¼ tsp dry mustard
salt and pepper to taste
In a large bowl, blend together all ingredients except for the crabmeat. Then, once everything is mixed together, stir in the crab meat.
Shape into cakes—this should yield about 6 cakes—the cakes will be very soft. If you have time/energy to put the breadcrumbs into a food processor instead of just cutting them up into squares, it may make the crab cakes firmer.
As you form them, place the cakes on a bed of breadcrumbs and pat breadcrumbs over them. Let them stand for up to one hour in a refrigerator, loosely covered. (Another place to save time if you're short on it.)
Saute the crab cakes in a mixture of butter and olive oil over moderately high heat for two or three minutes on a side, or until they are browned. Transfer them as they are done to a heated platter. Serve with lemon wedges.
NOTE: If you're one of those people who are scared of mayonnaise, feel free to reduce the amount of called for in this recipe. This may also make the crab cakes hold together better. Let us know if you have any luck with this.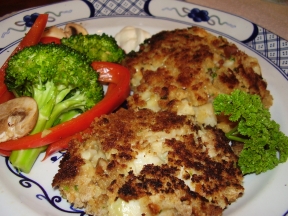 (Broccoli not included)